Pendleton Dog Coats & Jackets: The Ultimate Winter Wardrobe
Pendleton is a well-known American brand that is famous for its high-quality woolen products, including blankets, clothing, and accessories. They also offer a line of
dog coats, rain jackets, beds and accessories.
We love
Pendleton dog accessories
because they combine style, quality, and functionality, along with a sense of
heritage and tradition
. These products allow pet owners to express their love for their pets and their appreciation for well-crafted, visually appealing items that reflect the
Pendleton
brand's values and history.
Here's some information about
Pendleton dog coats & rain jackets:
Quality Materials: Pendleton dog coats and jackets are crafted from the same high-quality materials as their human products. Many of their dog coats are made from their signature woolen fabrics, which are known for their warmth and durability.
Iconic Designs: Pendleton's dog coats and jackets often feature iconic Native American and Southwestern-inspired designs that are a hallmark of their brand. These designs add a unique and stylish touch to your dog's outfit.
Variety of Styles: Pendleton offers a range of dog coat styles suitable for different weather conditions. You can find options for chilly winter days and lighter options for milder weather. Some designs also feature a water-resistant backing to keep your dog dry.

Size Range: Pendleton typically offers dog coats in various sizes to accommodate different breeds and sizes of dogs. Their coat sizes vary from XS to extra large. It's important to measure your dog to select the right size for a comfortable fit.
Warmth and Comfort: Pendleton dog coats are designed to provide warmth and comfort, making them a great choice for dogs that need extra insulation during colder seasons.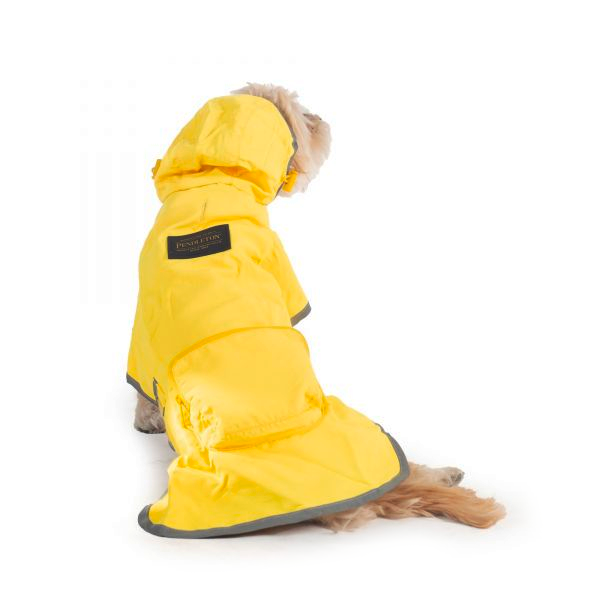 Stay Dry and Stylish with the Best Pendleton Dog Rain Jacket
Stay dry and stylish on rainy walks with your dog with the best Pendleton Dog Rain Jacket. This high-quality rain jacket not only protects your dog from the elements but also ensures they look fashionable while doing so. The jacket features a water-resistant exterior that keeps your dog dry and comfortable, even in the heaviest downpour.
Easy Maintenance:

 

While wool can require more care than some other materials, Pendleton dog coats are usually easy to clean and maintain. Many of them are machine washable, but it's essential to follow the care instructions to ensure longevity.

Matching Accessories: To complete the look, you can often find matching Pendleton accessories for your dog, such as collars and leashes, allowing you and your pet to coordinate in style.
Pendleton dog coats are a popular choice for those who appreciate the brand's iconic designs and the quality of their woolen products. As with any dog coat, it's a good idea to measure your dog, consider their specific needs, and choose the appropriate style for the weather conditions in your area.
Leave a comment